WELCOME
---
We are a group
of companies
specilized in hair extentions!
All Well Hair is a company dedicated to customer service and quality hair.
Our sister concern is - Qingdao Flowerseason Hair Product Co Ltd.
Our sister concern is - Qingdao Embrace Hair Product Co Ltd.
---
We pride ourselves on our ability to provide 100% human hair products, delivered with a focus on meeting and exceeding customer expectations. We value the business our customers give us, and do everything we can to assure satisfaction on every level. This philosophy starts at the top and continues down the line.

All Well Hair are continually working on quality, process, and service improvement initiatives. Whether it be developing new, more efficient ways to manufacture, developing compensation programs for our employees who deliver on our quality promise, or seeking out the best deals possible with our suppliers, we are adamant that you will never question why you are working with us -only why you didn't start working with us sooner.
Service and on time delivery.

• We use our experience in design and manufacture to work with you to develop a superior canvas product your customers will love

• We look at every step in the design and manufacturing process to find ways to add value, cut costs, be more efficient and be as responsive to your needs as we can.

we are in constant communication with you to make sure you are not only happy with our work, but satisfied with our relationship.
• In short, we define quality and service as attention to detail, and attention to you.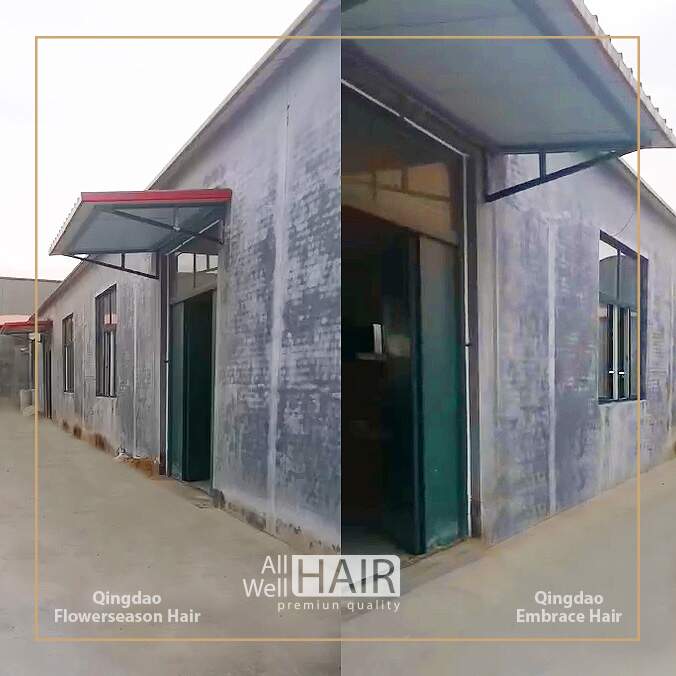 All Well Hair advocates being responsible, bearing the industrial responsibilities to establish the environment of fair competition, bearing the social responsibilities to produce more job opportunities, bearing the client responsibilities to create beauty continuously.

All Well Hair, we take strivers as orientation, teamwork as motivation, and technological advances as approach, to build a capable fleet which could move forward in stormy sea.

All Well Hair, believing the best way to foresee the future is to create it personally.

All Well Hair is keeping enterprising spirit with humble attitude and great learning ability, making one percent of progress every day is very important for us.

All Well Hair have two more factories
1 - Qingdao Flowerseason Hair Product Co Ltd.
2 - Qingdao Embrace Hair Product Co Ltd.

All Well Hair deal with premium quality
Qingdao Flowerseason and Qingdao Embrace Hair deal with Grade B and C quality.